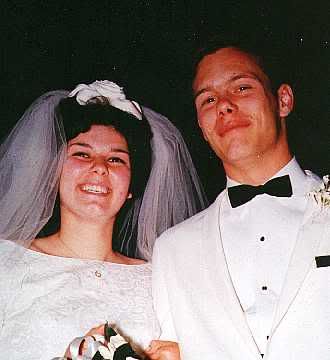 There they are. I'm so proud to announce that my parents have been married (to each other, even) for 40 years. The fact that they still love each other is fabulous, but not particularly surprising. They are people of conviction and a certain amount of flexibility. Oh, and the Lord was present, even before they knew it. It's total bonus for my brother and me that they are committed, and is something to be emulated in all friendships and relationships. Love is both a choice and a series of actions; they demonstrate that. The fact that they still LIKE each other is amazing. And great. And appreciated.


Mike and Char, sitting in a tree, k-i-s-s-i-n-g.
First comes love, then comes marriage,
then comes David and Stacey in a baby carriage.
Or carseat, or whatever.
Mom and Dad, there really are no adequate words to tell you how much your son and I appreciate the fact that you are still married to one another, happily. Let's just use this: Thank you. That, and neither of you is really worse for the wear. You still look fab 40 years later.
And for everyone else's jealousy factor, The Fig and I prepared the following "Mostly Appetizer" 11 course meal for their celebration on Sunday evening:
Green olive tapenade and goat cheese on toast points
Seafood bisque (with floating puff pastry hearts for romance factor)
Baked Brie in puff pastry with almonds and honey
Tomato/fresh mozzerella/basil salad
Hot bacon wrapped dates with roasted red pepper sauce*
Tuna Sashimi with wasabi and soy sauce
Chicken liver chestnut mousse on waffles with maple syrup*
crayfish pillows (crayfish-filled phyllo dough triangles)*
David's famous ribs
Marinated and grilled portabellas
Blackberry tartlet with vanilla bean ice cream
(*indicates Todd's recipes.)