And it's also not the one called "Proof of Impending Armageddon."

I've decided to do some things differently. And I'm pretty damn excited about it, I can tell you. Two things. First, and much to my surprise, I've decided that I really do want to be a much more physically fit version of myself. I've been giving this some serious thought, in between bites of macaroni and cheese, since Christmas. This, right now, is the happiest I've ever been as an adult. This is the most I've ever respected myself and the most I've ever believed in my loveliness. This is the least self-conscious I've ever been of my body. This is the first time I've walked around in my swimsuit without wildly looking for something to cover it up. Deciding to be physically fit is a decision I made out of gratitude for my continued good health and the urge to live to be REAL OLD.

I've had some smashing self-discoveries, and other sort of spiritual events in the last year. One of these, much to my astonishment, and absolute glee, is that I realized I'm already sexy. And, only my opinion counts in this matter. (But, seriously, have you *seen* me?) Really, ONLY my opinion counts on that. I am lovely because I feel lovely. Therefore, I'm NOT going to become physically fit (thinner will happen along the way, of course) out of some self-loathing. I'm going on this journey because I'm truly in love with being alive, and I want to stay that way. And, maybe, just in case I maybe want to (gasp) have a baby, I'd be fit enough to do it.

Let me say that I've NEVER been thin, but I certainly have been exercise-girl before... and I remember the energy! I have so, so many things I want to do, and I'm so wildly excited about all of them, that this is now necessary. Trust me, if you're still reading, I know how ridiculously positive and how coked-up I sound. I'm just excited. Vacillations will most assuredly occur. Especially when I don't feed the Cute Fat Girl dark chocolate in vast quantities during PMS-fest next month. Warning: avoid me then.

Bottom line, I'm going to become fit for

stamina
sexy underwear
ease of intercontinental travel (the seats are cramped enough when your butt is tiny!!!!)
Oh, I kill myself. Actually, that list is almost entirely the truth! It's also what I said before, though. I'm grateful for my health, and I want to keep it.
Because the second BIG choice is to remove myself from Corporate America. I'm not entirely positive how I'm going to accomplish this yet, but by my 40th birthday (4 years from now, for the curious), I'm never going to a Cube Farm again. I MUST write, or create, or decorate, or speak, or read, or all of those for a living. I'm good enough with at least two of them to get the hell out of my traditional job (for which I am currently grateful, but of which I'm increasingly weary.)
Recently, a couple of my girls and I got our new tattoos. (WHEEEEEEEEEEE!!!!) The symbol and the people that it represents are The Numbers, but the LOCATION of my tattoo was for me. I put my tattoo on a visible part of my body as a physical commitment to my leaving the traditional workforce.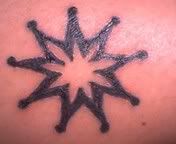 It's on the inside of my calf. Verrrrrrrrrry sheksy! Anyway, I'm figuring out a path for the departure from one and entry to another. I'm excited about all of it.
This second commitment has also been a long time in coming. Before I head off to sleep (which, by the way is GREAT for weight loss!) I want to thank a couple people who encouraged my path to this decision. Thank you to my Mom and my Dad who have always thought I was good at writing and who recently supported me 100% on my essays including the Incredible Body one. Thank you so very much to The Fig (my brother David) who truly believes I'm a poet. Thank you to My Numbers for convincing me of my uniqueness and for loving it. Thank you to Todd for saying out loud that I'm talented and creative -- your words arrived at the most essential of moments.
Thank you most especially to God for breathing into me this passion and for sustaining it every moment.