Do you have a bank in your area of the country called 5/3 Bank? They say "Fifth third." Wayne Brady does the commercials for this institution -- you know who I mean? This guy: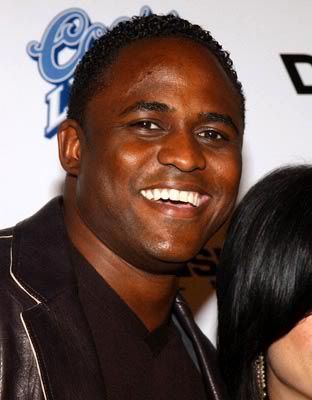 Anyway, that was just for your personal enjoyment -- isn't he a doll? -- because my point has nothing to do with Mr. Brady. It has to do with the bank itself.
Normally, I just drive by one of their branches and think, "5/3, why can't this financial institution reduce its fractions?" I mean, I'm hardly one to criticize anyone about math. Great googley moogley, I partially based the selection of my college major on the fact that I wouldn't be required to take any classes more complicated than "Computer Science for Poets" or "Statistics for the Mathematically Terrified." But,
come on
. This is a
BANK
. These people should know a thing or two about fractions. Reduce, people. It's one and two-thirds. Even the English major knows that.
Recently, they started airing some radio commercials starring the abovementioned (and pictured) Mr. Brady. The jingle which, is a catchy rewritten Motown song called "Shout" says, "It's as eeeeeeeeeasy as one-two-five-three!"
YOU.HAVE.GOT.TO.BE.KIDDING.ME.
Now they can't even count? Let's just say I'm not giving these people my hard-earned smacks if they can't even count to THREE. Let's review the commercial: It's as easy as one, two, five, three! Whaaa??? Didn't we learn how to count all the way to ten before we ever went to school? One, two, three. Not terribly complicated, you know? I feel like I'm stuck in a scene from
Monty Python's Holy Grail
. (Not that I really mind, I mean, it's a great scene.) Bottom line, they're not getting my cash. No matter how talented or goodlooking Wayne Brady might be.
In other news, my microwave oven seems to be broken, thus preventing me from popping Pop Secret Homestyle Microwave Popcorn. Actually, I can still put the unpopped bags in there, and a few kernels pop up, but the rest of it burns. On the upside, I'll probably lose 20 pounds in the next 20 days, just due to the cessation of popcorn intake. (It's called hyperbole. It's not
that
serious an addiction!) Maybe the apartment people will install a new one, and I can resume consuming my favorite dinner fare: popcorn, sharp cheddar cheese, and Tropicana orange juice. I'm such an epicure.
My favorite little item from the last few days comes from my 'mate, Matt, and a conversation with
Allie
, and a little creative swirl in myveryown haid. When Matt's ticked at people -- or simply poking fun -- he says "Those people are bastard people!" This makes me giggle a LOT. I told Allie this a while back, and it makes her giggle, too. When we were talking the other night, we used that phrase, "bastard people." I mentioned that the Bastard People are from Bastard Lake, Minnesota. We HOOTED. No, I can not explain to you why this is funny. It just is, or is not. (Beth, I know you're laughing.)
That's what I have for today. Thanks for tuning in!